A few weeks ago, I broke down the latest action in NFTs, which were seeing steady price drops alongside other risky assets.
Since then, the downtrend has continued to an alarming degree. And the recent collapse of FTX creates another major headwind for NFT investors.
To get an idea of what's happening, we need to dig into the numbers…
NFT sales go from bad to worse
Below, you can see some basic weekly sales data for NFTs over the past 12 months.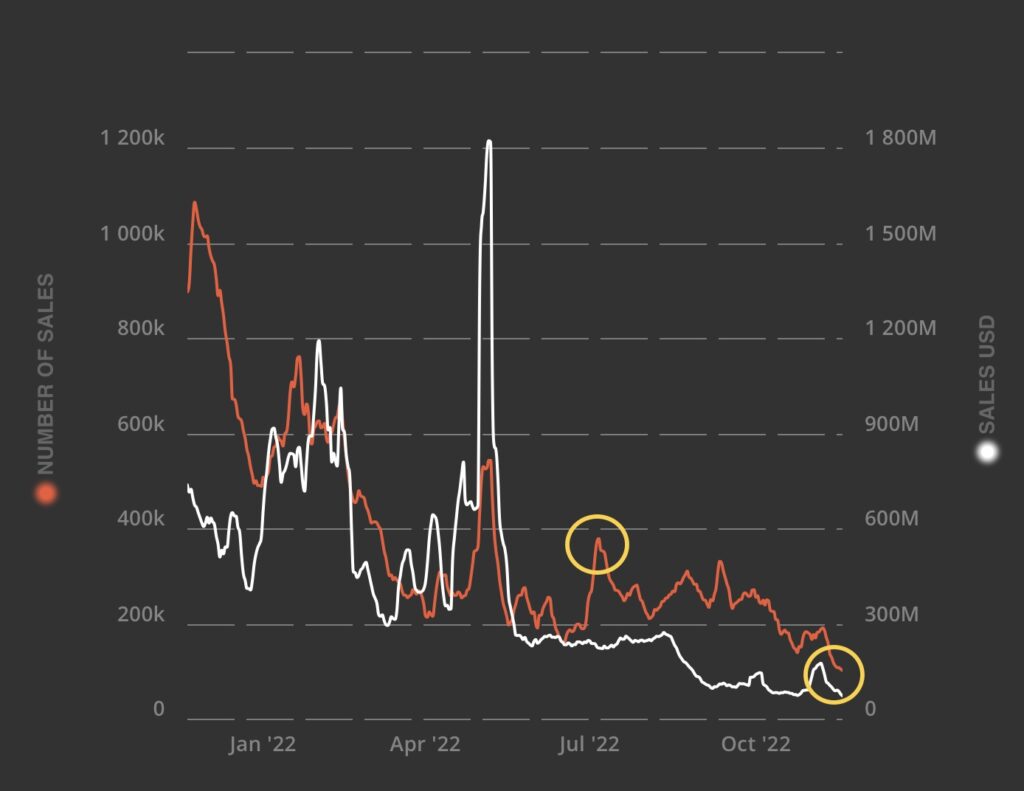 The red line on the chart shows the weekly volume of NFT sales… and the white line shows the total value (in USD) of NFT sales.
I circled the late July peak in trading volume. Since then, weekly NFT sales have dropped from nearly 400,000 to less than 150,000—a plunge of more than 60% in just four months.
This week, just over 100,000 were sold… down 25% vs. the previous week's sales volume of 135,000.
And the total value of NFT sales fell to $72 million last week… a 31% drop from the previous week's sales of $105 million.
Put simply, there's little demand from buyers right now… and no sign of the NFT downtrend breaking.
Let's take a look at the latest numbers from a different source.
The chart below shows how much Ethereum (ETH) was exchanged for NFTs each week over the past 12 months across seven marketplaces. (As a reminder, Ethereum is the main currency for trading NFTs… so it gives us a good benchmark for the overall market.)

As you can see, the total volume has been hanging around the 100,000 ETH level in recent weeks—an 80% drop since May, when NFT sales peaked around 550,000 ETH.
The data tells us investors' interest in NFTs keeps declining. They're not buying as many NFTs… and they're not willing to pay the same high prices as earlier in 2022.
And we can get an even clearer picture by looking at one of the most popular NFT collections…
Demand for monkey pictures is plunging
By now, you've probably heard of the Bored Ape Yacht Club (BAYC). It's the collection that kickstarted the NFT craze last year… and is widely considered the poster child for the NFT space.
In my last update, I pointed out that the floor price (the minimum price to buy an NFT in a collection) for the Bored Ape Yacht Club sank from $130,000 in July to $101,000 in October—a 22% drop in just three months… and one of the biggest declines in the (relatively short) history of this popular collection.
Today, BAYC floor prices remain stuck in a downtrend. As you can see below, they've fallen even further since early October.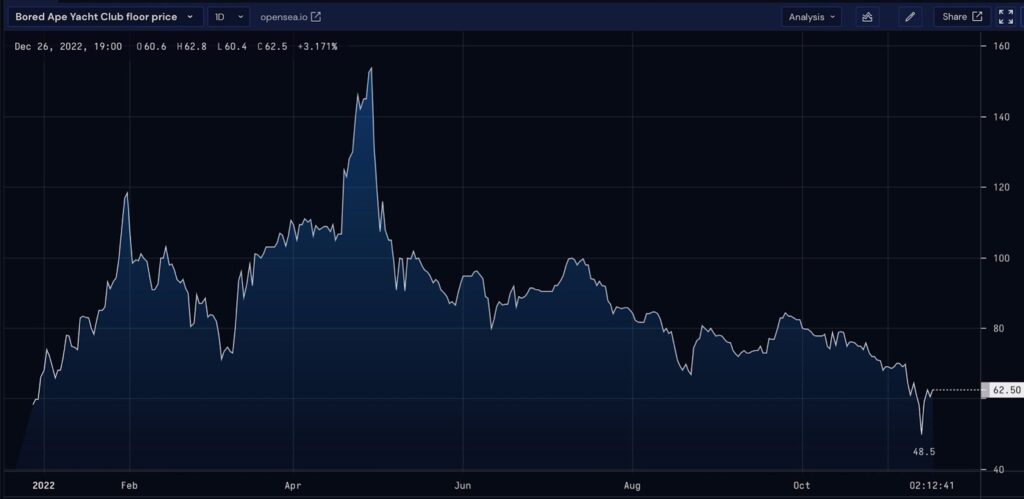 The chart above shows the BAYC floor price (measured in ETH) since the start of the year. Currently, it's around 62 ETH… which means the floor price in dollars is about $68,200 (based on a recent ETH price of around $1,100).
That's a 26% decline since my last update less than two months ago… and the lowest floor price since January.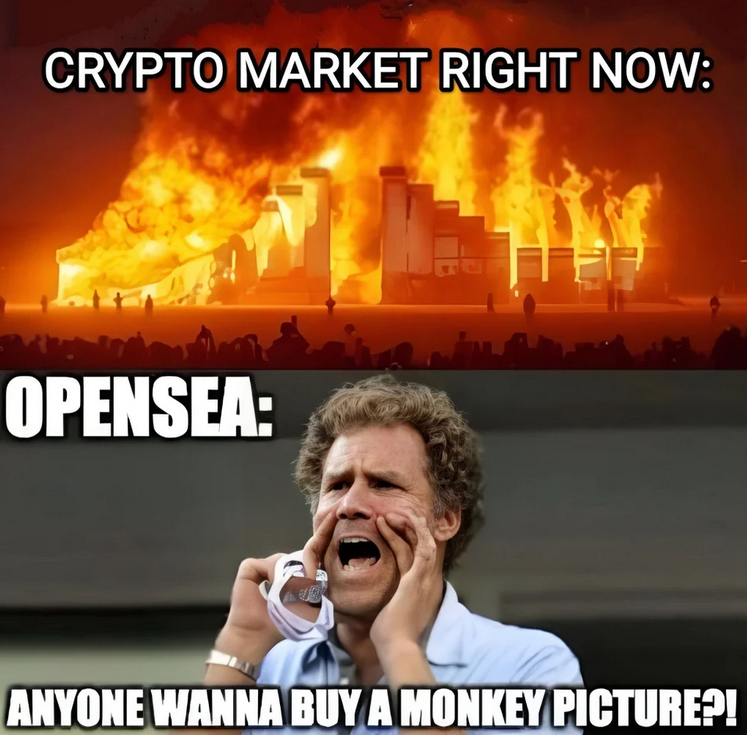 Obviously, there's been a big swing in sentiment towards these ape images. Buyers are rethinking how much they're willing to pay for a monkey picture.
The 2 huge headwinds for NFT prices
As you probably know, the Federal Reserve is on the warpath to bring down inflation—raising interest rates from near zero at the start of the year to around 4% today. (And it's likely to go higher by the end of the year… and possibly into 2023.)
Higher interest rates put pressure on risky assets as investors can get decent returns on safer assets. For example, you can get a 4%-plus return by buying risk-free Treasury bonds right now… and plenty of dividend stocks are paying 5% or more, while offering solid growth potential. (Get access to the best of these stocks here.)
Put simply, as long as rates are on the rise… we should expect more pressure on risky assets like NFTs.
And this month's FTX blowup creates another headwind for the NFT market.
FTX's collapse sent shock waves through the entire crypto industry. Even worse, it's shaking investors' confidence in digital assets. FTX was one of the biggest crypto exchanges in the world… and was even called the "savior" of the industry after it bailed out Voyager, BlockFi, and LedgerX.
We don't yet know the full details of what FTX did wrong… how far the fallout will reach… or whether other crypto companies will face bankruptcy.
But one thing is clear: Stricter regulations are coming. That's not necessarily a bad thing, as we'll likely see more safeguards for investors… which will put the industry on a healthier long-term path.
But for now, the entire digital asset space is under a dark cloud… which will make it even harder to break the downtrend in NFT demand.
Before you jump back into NFTs, look for these 2 things…
Back in October, I said I was holding off on buying any NFTs. And based on the latest market data, I don't see any near-term catalyst that would stop the current downtrend in the NFT market.
I'm waiting for a turnaround in NFT sales—specifically, I want to see at least three months of positive data showing rising values and volume. That would be a clear signal that the NFT market has bottomed… and the worst is behind us.
Keep in mind, the NFT market is new… And the price moves are based on investor sentiment, not fundamentals (like the stock market). We'll have to wait until the data shows the selling has stopped… and buyers are stepping in to support prices.